Water Damage Restoration in Northern Houston
911 Restoration of Northern Houston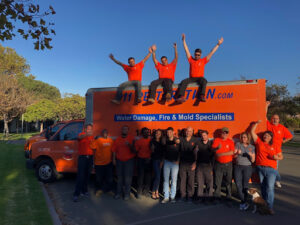 Looking for water damage restoration in Northern Houston doesn't have to be a challenge with the stress that comes with being a disaster victim.
In fact, the moment you call 911 Restoration of Northern Houston for your property emergency, we'll be there within 45 minutes. Because we know disasters don't wait. The last thing we'd want for you to continue to experience is ongoing distress and worry.
Whatever you're dealing with, our professional technicians are experienced in delivering you the best water mold fire restoration near Houston and Spring areas.
What are you waiting for?
Call 911 Restoration of Northern Houston today for the best water damage restoration in Northern Houston. Our friendly team is excited to meet and help you with water, mold, and fire restoration services in Northern Houston and Spring areas.
At 911 Restoration of Northern Houston, we offer a Fresh Start with our comprehensive selection of property damage restoration services, including but not limited to:
Whether you're a Northern Houston homeowner or business owner, 911 Restoration of Northern Houston is your Fresh Start! We'll communicate with you throughout the entire process, help answer questions related to insurance, and restore your property to its pre-damaged condition. One of our IICRC-certified teams is dispatched within 45 minutes of your call! Contact us today, and one of our friendly representatives will assist you in finding the nearest Northern Houston location.
Service area map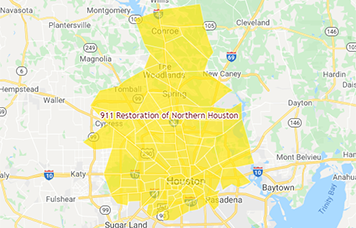 Water Damage Restoration in Northern Houston
Water damage is one of the leading causes of damage for Northern Houston property owners.
The thing about water damage is it's a painful experience as the water gets in the slightest cracks and spaces. And if not treated immediately, bigger problems like the growth of mold on walls begin to take place.
If you're searching for "water damage restoration near me" in the Houston, Cypress, or Spring areas, we have what it takes to give you a Fresh Start.
You can count on our IICRC-certified water damage restoration experts to fix any type of water issue on your property:
Flooded basements

Emergency roof repair

Burst pipe emergencies

Testing and evaluating structural damage
Don't let water problems worsen or get in the way of living in peace at home.
Choose us as your top-ranked water damage mitigation and restoration team in Northern Houston, Cypress, and Spring areas.
Sanitization Services and Disinfection Solutions
The recent coronavirus pandemic taught us the importance of clean, healthy, and safe spaces more than ever.
The war on germs, bacteria, and viruses is something that won't be going away anytime soon. If not, ever. If you think you're immune to any pathogen or virus, you may want to think about that again.
The CDC advises you to wash your hands with soap and water for 20 seconds after cleaning to help prevent the spread of the virus.
At 911 Restoration of Northern Houston, our IICRC-certified sanitization team's job is to help reduce the risk of exposure to the virus. We ensure all our staff that works on your property for sanitization and disinfection follow CDC and EPA protocols. This means you're only one step closer to having the peace of mind you deserve.
When your Northern Houston property has had water damage restoration services, be sure to sanitize the area afterward. Help protect the health of yourself and the ones you love with sanitization services.
Mold Removal
The growth of mold on walls is an underlying problem that can often be overlooked. Mainly because mold can be difficult to diagnose due to sometimes being tricky to see by the naked eye. Usually, previous water damage can trigger mold growth. And water can get into the smallest cracks and crevices, sometimes it's not easy to see the mold growth until it's too late. 
These harmful fungi attach themselves to moist areas on walls and surfaces in dark spaces you'd never imagine.
If not remediated quickly, mold can double its growth by the day. That's why it's important to hire a certified restoration company to mitigate and eradicate mold.
Some symptoms of mold that can cause trouble to the body are:
Wheezing and coughing

An onset and worsening of allergies

Headaches and nausea

Body aches and pain

Brain fog
Sadly, there are a large number of homeowners living with mold growth on walls in the Houston and Spring areas without even knowing it.
You need a professional mold remover to inspect, diagnose, and eradicate these infestations.
Stop living in fear, uncertainty, and assumption with a free mold inspection in Northern Houston with our mold experts who can assure you.
Sewage Backup Cleanup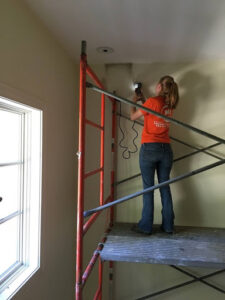 A sewage backup is another dangerous situation no Houston or Spring property owner should have to experience. Unfortunately, it does happen to innocent victims.
When it does happen, we advise you to keep all property inhabitants including pets away from the black water disaster. Being close to these waters exposes you to toxic chemicals, biohazardous liquids, feces, and sludge not suitable for human touch.
Fortunately, the team at 911 Restoration of Northern Houston is ready to take on any disaster that strikes. Our sewage backup cleanup professionals wear the correct hazmat gear to quickly begin the cleaning process.
They'll inspect every square inch of your property to make sure nothing gets missed. Because the last thing we'd want for you to experience is more water damage or mold growth without knowing it.
By the end of the process, your property will be spotless of sewage and smell brand new.
Hire the friendly team at 911 Restoration of Northern Houston to take care of your sewage backup cleanup needs.
We work hard for you to get back on track fast.
Gina Butuc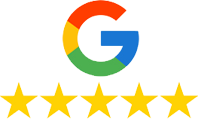 "The team responded promptly to our call on a national holiday. They started the cleanup on the evening of Memorial Day holiday and stayed until after 10 pm to remove all standing water from the house. They prompt action minimized the water damage to our home. A very professional and compassionate team!"
Fire and Smoke Damage Restoration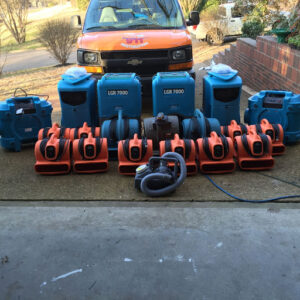 The hot temperatures are something Texas residents have to deal with. And sometimes fire and smoke damage can be a part of that process. Unfortunately, in order to put out a fire, you need water. And that's how a lot of water damage in Northern Houston is overlooked. 
Once firefighters perform their part in putting out the fire on a property, their job is done. It's not their job to ensure you get a sparkly clean and shiny new house.
That's 911 Restoration of Northern Houston's job to do so.
We're the top restoration company that delivers fire damage restoration in Northern Houston and Spring areas with a Fresh Start.
Our fire damage Houston technicians use the latest technology. You won't see any signs of soot, ashes, black smoke, or stains the moment it's safe to return home after the restoration process.
Get a Fresh Start after fire damage today. Call us now to get started!
Disaster Restoration
Mother nature has its own rules. Whether it's a disastrous hurricane, severe rainstorm, or frenzy from a shocking earthquake, humans and their properties can only take so much.
Disasters can wipe out any home in sight and damage your property's most important functions. From roof repairs, burst pipes, black smoke from fires, or gushing floods that break property structures.
Our water damage and disaster restoration experts at 911 Restoration of Northern Houston are ready on standby 24/7 to tackle disaster cleanup. With all our technicians being IICRC-certified, you'll get the highest quality work and service from a skilled team.
Work with our disaster restoration staff on any of your cleanup needs. They'll help you from leading property damages like water damage mitigation, mold removal, or fire damage restoration near you.
Commercial Restoration
Whether you're a business owner or property owner in Houston or Spring, owning commercial property is no easy take to handle. You'd be doing yourself a disservice by trying to do your property's commercial restoration all by yourself.
With commercial emergency restoration services in Houston, you'll have your whole commercial property fully inspected with a checklist of action items and vulnerabilities. Stop searching endlessly for the best water damage restoration in Northern Houston. Instead, take action now to tackle water mold fire restoration near you.
Call 911 Restoration of Northern Houston today for a Fresh Start!
Serving the communities of Cypress, Houston, Spring, Tomball, Conroe and surrounding areas.