Water Damage Restoration Near Me in Northern Houston

If you're wondering about "water damage restoration near me" and are struggling to find the right company, look no further. 911 Restoration of Houston has your back the whole way through regardless of any disaster.
We know how hot it can get in the Houston and Spring areas. But that doesn't mean your disaster problems have to keep you hot-headed when a mess strikes.
Whether it boils down to burst pipes, severe rainstorms, or basement flooding, know that you have a team with helping hands.
Free visual inspection for property owners only

Testing and evaluating structural damage

Leak detection & repairs

Free insurance consultation

Complete water extraction, drying, & dehumidifying
Call us today to get one of the best water damage restoration near Houston and Spring.
Disaster Experts Who Also Tackle Water Mold Fire Restoration
Contrary to popular belief, water emergencies on properties don't happen alone. That means another culprit is involved in the disaster. For example, hot fires can cause pipes to burst at high temperatures. So if you need fire restoration Houston offers, we'll be inspecting for other signs that lead to your water damage.
That's why we equip our friendly team at 911 Restoration of Northern Houston to be trained in all disaster areas. We combat emergencies like water extraction in Northern Houston, mold removal Houston, fire damage restoration in Houston, and sewage backup cleanup in Houston.
How are our disaster technicians well versed?
Every professional that joins our team is required to be IICRC-certified.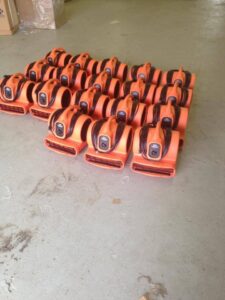 That means you get the best Houston and Spring water damage restoration near you from an experienced team. They know the best practices with standards that raise the bar in the industry.
You can be assured of 100% satisfaction at the end of the restoration process. Some promises we live by include:
A 45-minute response time after any call you make

Same-day service with a reliable team that understands your situation

The resources of a nationwide company

A team that cares about you and understands your needs

Highly trained technicians providing you with peace of mind after a disaster
The whole process when you work with us will be seamless and worry-free. And yes, that also includes you never have to speak to your insurance company again throughout the process. We'll deal with them so you don't have to.
No more long wait times on the phone.
No more uncertain thoughts.
Just a new beginning.
Because searching for "water damage restoration near me" shouldn't have to be a pain.
You'll finally have the breath of fresh air you've been looking for by the end of the restoration process. You'll be greeted to a fresh home free of water damage thanks to the use of state-of-the-art dehumidifying equipment.
If you have any questions, get in touch today with our customer service team. They'll be happy to guide you on the right track.
Water Damage Restoration Near Me With a Fresh Start
If it's one reason why our happy customers choose us as their restoration service provider is our Fresh Start Attitude.
There isn't any other disaster restoration company that serves the Norther Houston area with a promise of hope in sight.
What does a Fresh Start mean?
We simply believe in tackling what may seem like the impossible and turning it into an opportunity for positive change. A Fresh Start is a philosophy and we carry it across our chests with pride to impact every customer.
We'll show you the light in any negative situation

We listen to all our customers' needs, emotions, and goals by putting them first

It's our duty to inspire our customers and let them know a better life is possible

Respect and compassion are values we live by

Before you know it, you'll soon be walking home to a newly restored home
So remove any feelings of fear, uncertainty, or distress. We know you're only human and there is only so much you can bear.
The last thing we'd want for you to continue to go through is a stressful situation.
But know that you have a dedicated team of disaster experts behind you the whole way through
If you're a business owner or property owner in Houston or Spring, it's time to seize the day. And it's time to live the best life you could have ever imagined.
We'll help you put your water damage mitigation to a stop.
Call 911 Restoration of Northern Houston today for a Fresh Start!
Serving the communities of Cypress, Houston, Spring, Tomball, Conroe and surrounding areas.