The Damage Even a Small Fire Can Do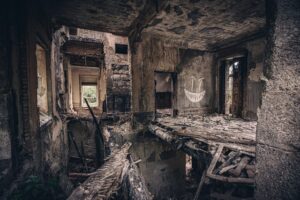 The damages of residential fires can be really extensive. One day you'll be living in your home, sipping coffee while reading your favorite book, and in the next moment, you'll see firefighters trying to save your property. From the loss of property to death, the consequences of residential fires can be severe regardless of the size of the fire.
From 2015 to 2019, 26% of the total fires occurred in homes which were responsible for causing 75% of civilian deaths and 72% of all reported injuries. The most common causes of residential fires include kitchen and cooking activities, faulty appliances, candles, holiday decorations, smoking indoors, lighting, chemicals and gases, and children. The leading cause of residential fires is cooking activities that account for 48% of all reported residential fires.
While understanding the causes of residential fires, it's also important to discuss the damages of residential fires so that you can understand how severe residential fires can be and do the necessary to protect your property and loved ones from destructive fires.
Damages of Residential Fires – The Horror Story
When a fire occurs in a home, it's suggested by the National Fire Protection Association to evacuate your home immediately without worrying about putting out the fire or limiting the danger. Many people assume that they are safe if they are present in a room not covered in flames.
However, it's important to understand that the smoke and fumes created by the fire are extremely dangerous, and staying in an area where the flames aren't present doesn't mean that they are safe. Therefore, it's important for homeowners to have an evacuation plan comprising multiple exits because you may never know which exit may get blocked by the fire.
Knowing the damages of residential fires can also help you curate a safe evacuation plan. Let's take a look at the primary consequences of residential fires:
Thermal Irritants
Many people believe that the primary danger of fire is the fatal heat levels. However, carbon dioxide, hydrogen cyanide, phosgene, carbon monoxide, and damaging levels of chemical and thermal irritants are the primary culprits. These irritants damage a person's or even an animal's respiratory system and cause death.
Carbon monoxide is created from incompletely burned down fuel sources, whereas carbon dioxide results from chemical reactions.
Smoke Inhalation
Inhaling irritants like Carbon monoxide, hydrogen cyanide, and phosgene cause more deaths during a fire than actual flames. These irritants can irritate the lungs and can cause various symptoms, including headache, dizziness, weakness, and confusion.
Inhaling harmful smoke can also inflame your lungs, causing them to block oxygen. The effects of smoke inhalation make it more difficult for people to evacuate from the house. To make sure that you step out of the house fine, stay as low to the ground as possible.
To prevent smoke inhalation, install both smoke and carbon monoxide detectors on every level of your home, as per the safety guidelines of the National Fire Protection Association. No matter how big or small the fire is, it's not recommended to sleep in a house after a fire because smoke particles easily spread from one room to another house.
Structural Damage
From soot stains to cracked walls, a fire can cause severe structural damages to the property. Having a fire is a scary, traumatic experience that not only affects your health but also affects the health of the property. If your house is still standing after a fire, it doesn't mean that the damage isn't done.
As discussed earlier, most damage during a fire isn't caused by flames, but the smoke as smoke can even affect the areas that weren't touched by flames. This isn't it. Wherever there's smoke, there's soot, which is a threat to your health.
No matter the size of the fire, smoke can infest the whole house and even affect your belongings. During the fire, flames and smoke quickly move from one item to another, completely destroying everything. What's more shocking is that even a wildfire near your area can affect your house and cause serious structural damages.
Smoke easily finds its way into walls, vents, and other hard-to-reach places, destroying everything into a crisp char. To prevent further damages, it's important to hire a home restoration company for fire damage restoration. The quicker you act after a fire, the more damages you can prevent.
What Is Fire Damage Restoration?
If your property has suffered a fire, you'll have to call home restoration experts to restore it and prevent further damages. Fire damage restoration is a lengthy procedure. Therefore, working with an accommodating and trustworthy company is crucial.
During fire damage restoration, the professional home restoration experts make necessary repairs to return a fire and smoke damaged property to pre-loss condition.
Fire damage restoration includes:
A thorough inspection to assess the level of damage
Security of property
Efforts to prevent further damages
Smoke and soot cleanup
Demolition, water mitigation, and dry Out
Repairs and renovation
Small fire repairs can be taken care of in a day or two. However, the procedure can take upto 7 months if extensive repairs are required. If the fire is severe, the home restoration company may recommend the homeowners find temporary housing.
How 911 Restoration of Northern Houston Can Help You?
If you are looking for a fire damage restoration company, 911 Restoration of Northern Houston should be your first choice.
911 Restoration of Northern Houston is not your ordinary home restoration company. Unlike many, the home restoration company has an arrival time of 45 minutes to ensure that further damages can be prevented.
The company carries a bunch of empaths who are dedicated to help you save money and time. Fire damage restoration is an extremely complex restoration procedure. Therefore, working with expert home restoration experts such as the ones at 911 Restoration of Northern Houston means that you won't have anything to worry about.
Another benefit of hiring 911 Restoration of Northern Houston is that they also offer water damage restoration. Many times, fire damage leads to water damage because of the significant use of water to put out of the fire. If that happens, the professional home restoration experts will ensure that it's taken care of.